Travelling Tips to Stay Fit and Healthy on Holiday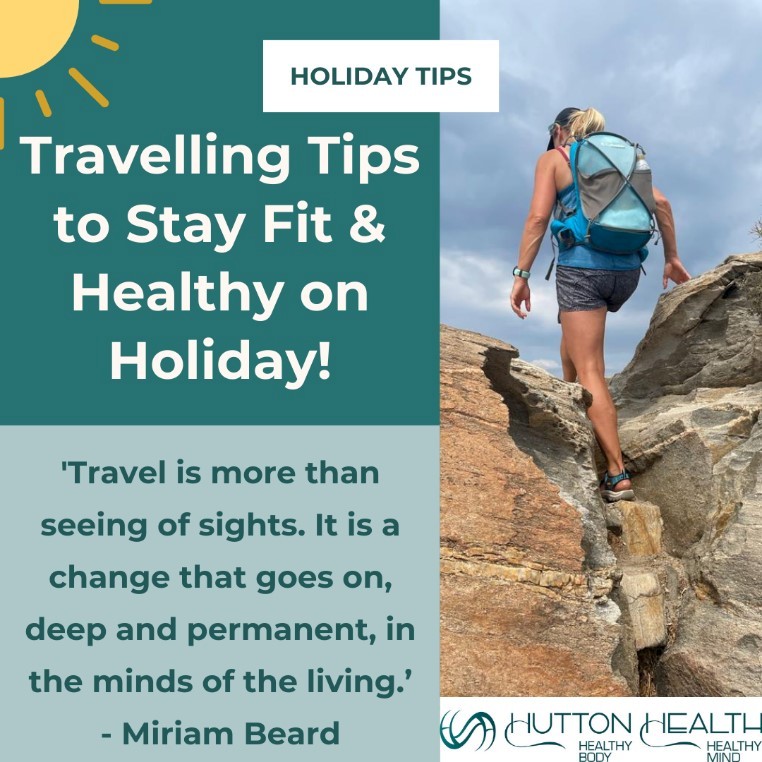 (This post may contain referral links. Please read my disclaimer for more info.). As an Amazon Associate I earn from qualifying purchases.
Table of contents:
Doesn't everyone gain a few pounds on vacation?
How do you stay healthy while traveling and maintain good health and wellness habits?
My holiday schedule is full, how do I find the time to exercise?
Travelling tips to keep you fit and healthy on holiday
Travelling is one of my favourite things to do. I love exploring new places, tasting delicious local food, and having active adventures around the world.
As much as many of us look forward to holidays and carefully choose where and how to invest our time, money and energy to have the best vacation possible, it is important to feel confident, happy and healthy while you are away.
If you put pressure on yourself to get 'holiday ready', striving for a target weight and appearance before you go, there are a few simple things you can do to stay fit, healthy and on track while you are on holiday.
'Travel is more than seeing of sights. It is a change that goes on, deep and permanent, in the minds of the living.' Miriam Beard
Doesn't everyone gain a few pounds on vacation?
A common trend is to focus on losing weight before you go on vacation to look and feel your best on your holiday. Many people feel like vacation mode means letting go of healthy habits and replacing with a mindset of indulgence (after all, you are on HOLIDAY!).
While it is great to allow yourself to relax and enjoy the occasional treat while away, eating and drinking freely and spending long days relaxing on a sunbed can leave you feeling irritable or low on energy. Remaining health conscious can keep you feeling fit and healthy while you holiday.
If your eating is imbalanced and you are missing out on the feel good endorphins you receive from exercising, you may risk not feeling your best.
If you do put on a few pounds while you are on holiday, getting back on track with healthy eating and a regular exercise routine when you get home will combat this, but it is great to try to avoid drastic cycles of weight gain and loss.
How do you stay fit and healthy while travelling and maintain good health and wellness habits?
You don't need to give up on healthy eating habits when you travel. Start your day with a healthy breakfast that includes protein. This can help keep you feeling full longer, avoiding additional snacks throughout the day.
Packing healthy snacks that contain protein on your days out can help you resist indulging when you get hungry. Fresh fruit, healthy nut or granola bars and nuts are a great choice and pack well in a small bag.
I love taking Kind bars with me when I travel, they are delicious, pack well and have delicious nuts for a dose of protein.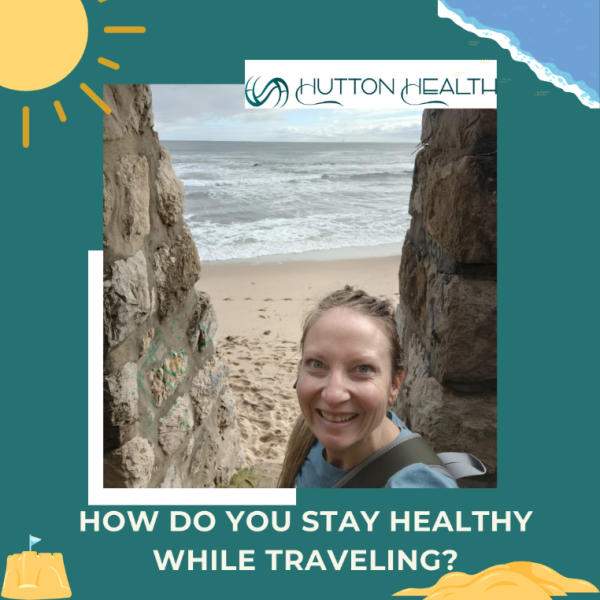 My holiday schedule is full, how do I make time to exercise?
Exercise does not to be a long workout to have positive effects on your mind and body. Start your day with a quick 10 minute walk or workout to get your day off to an active start.
Leaving your exercise to later in the day leaves the chance of you being too busy, having had one too many wine, or having fun to find the time to workout.
Consider scheduling some activity during your day as a way of enjoying your surroundings; a walk, a bike tour, swimming, a hike, the options are endless!
Did you know you can book active tours on Booking.com? I often book my accommodation and holiday excursions through the site as it is so easy to use!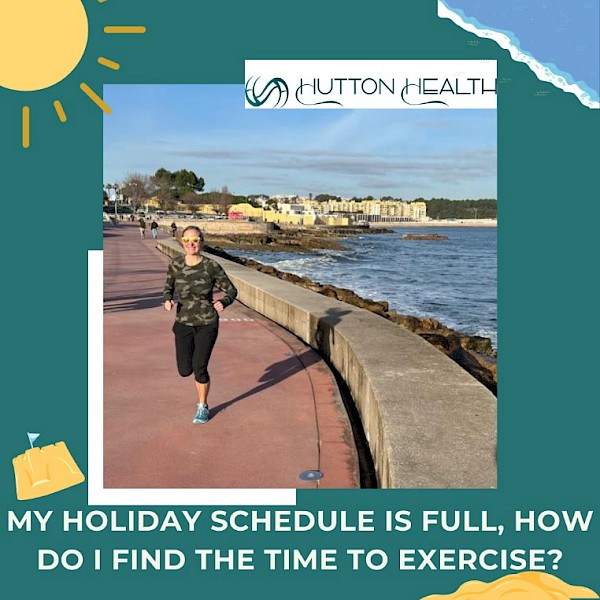 Here are some travelling tips to stay fit and healthy on holiday:
Exercise regularly on holiday
Even a small amount of exercise will help maintain your fitness while you are away and will help keep you feeling positive and healthy while you are on holiday.
Choose fresh foods when possible, and focus on your protein intake
Travelling can expose us to foods and spices that we aren't used to. This can leave us vulnerable to nausea, bloating and generally feeling unwell.
There are incredible fresh food options available in most holiday locations. Consider:
Visit the local markets to get fresh produce. There is often a wide selection of exotic, local fruits and vegetable in supply.
Pack healthy snacks with you on holiday. Nuts and dried fruit are great choices!
Look for restaurants with farm fresh foods
Protect your skin
Spending time outside while travelling can leave your skin exposed to much higher amounts of UV rays. As much as we like to soak up the sun rays, it is important to protect your skin from the harmful effects of too much exposure.
Sunscreen can help protect your skin from sunburn, skin cancer and premature aging. Sunglasses are also essential to protect your eyes from the UV rays. 
Goodr sunglasses are one my favourites to pack for holiday travel. They stay put no matter what I do and there is a huge range of colours!
Drink water!
Drinking water helps with everything from dehydration to constipation to overcoming jet lag on your holiday.
As your routine is out of the ordinary on holiday, it is easy to get caught up being busy, forgetting to drink water regularly. Start your day with a glass of water, and drink another glass before each meal or alcoholic drink.
If you are taking a flight, bring water with you so you are not limited to a drink only when the airline brings around their refreshments. Consider bringing a water bottle from home and refill it after you have passed through security.
Try to get 8 glasses of water each day to stay hydrated while you are on holiday.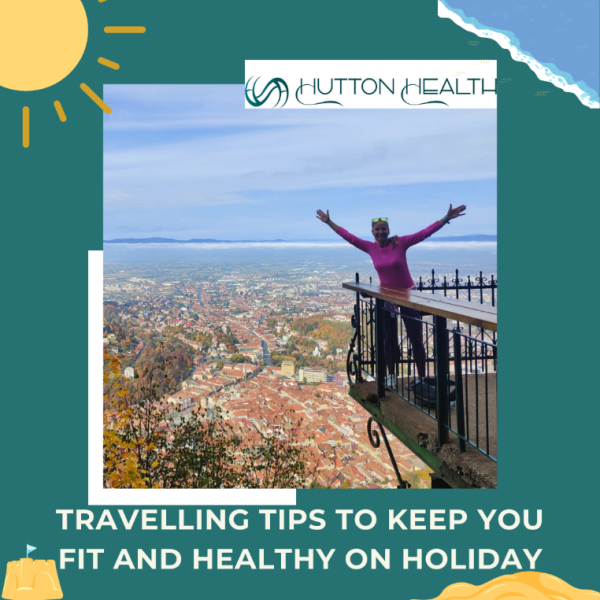 The goal of a 'holiday' is to feel great. Focusing on these trips can help you have your healthiest (and happiest) travel adventures!
Here is to your amazing, healthy adventures.
You may also be interested in: