The benefits of meal planning and how to start meal planning today!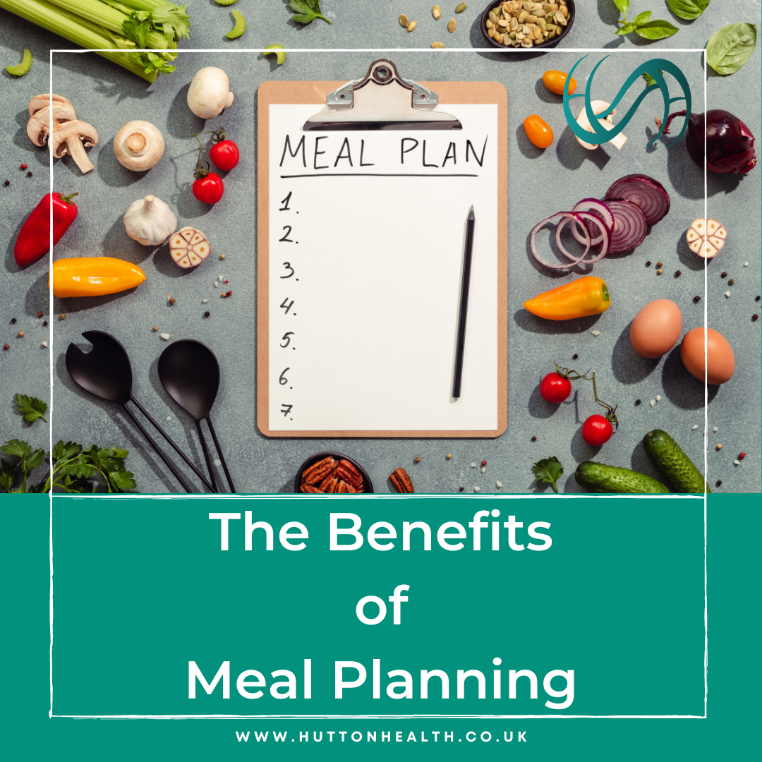 (This post may contain referral links. Please read my disclaimer for more info.). As an Amazon Associate I earn from qualifying purchases.
You have likely heard the saying, 'Fail to plan, plan to fail'. With the busy lives we lead now, the phrase is true when it comes to our nutrition and health.
Meal planning is an easy way to increase the chances of eating a healthy diet. I never regret the time and energy spent planning and preparing food when I sit down to a delicious, healthy, home cooked meal.
Some of my favourite family memories from growing up are eating home cooked meals around our table.
Download Hutton Health's FREE Meal Planner to help set yourself up for long term success.
1. Save Time
As meal time approaches, knowing what you are going to eat and having the meal planned and prepped as much as possible can save you time.
Meal planning removes the additional time you may have otherwise taken looking through your fridge and cupboards deciding what ingredients you have on hand and what you have the ambition to cook.
If you spend time meal planning on the weekend before you get your food shopping done, it means that you will have all of the ingredients on hand to cook the meals that you have planned.
This saves time as you won't need to head to the grocery store for any additional ingredients for last minute meal ideas.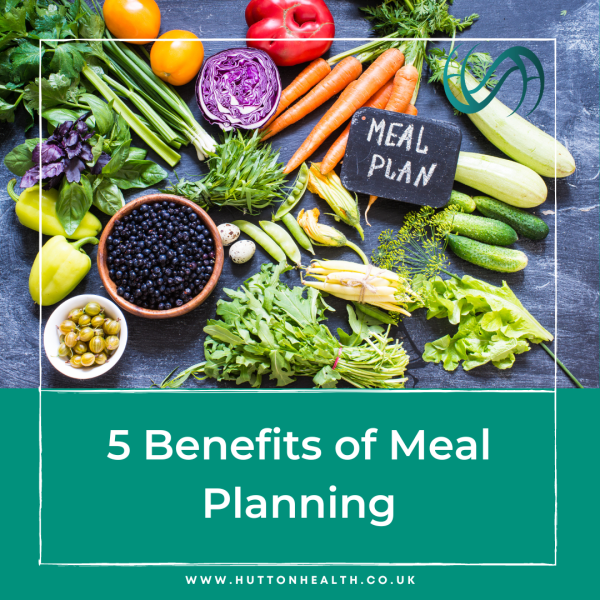 2. Eat a healthy, balanced diet
When we are too hungry, our blood sugar dips which makes us more likely to reach for something fast and easy rather than worrying about the nutritional content of the food that we eat.
Home cooked food is typically lower in calories than meals eaten at restaurants or fast food joints. Meals made with fresh ingredients at home also contain less sodium, sugar and saturated fat.
A healthy eating pattern means that a person is getting the nutrients and vitamins needed to help maintain their body's daily functioning, promote optimal weight, and help prevent disease.
As a healthy eating pattern considers the food and drink intake over time,  imagine your body as a vehicle you use to get around, so you need fuel for it to function effectively in the same way you need fuel in your car.
The fuel your body needs is found in the food that we eat. If we put the wrong fuel in your body, it will stop working, the same way that your car would break down.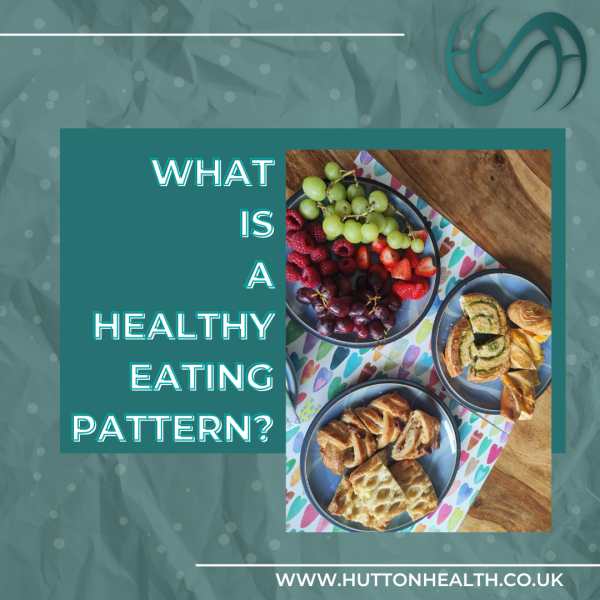 3. Save money
Cooking at home often leads to substantial financial savings.
Eating home cooked meals is much cheaper than eating out, picking up take away or stopping at the nearest store for last minute meal options.
When you spend time meal planning before doing your weekly shop, you can buy the food needed, reducing waste.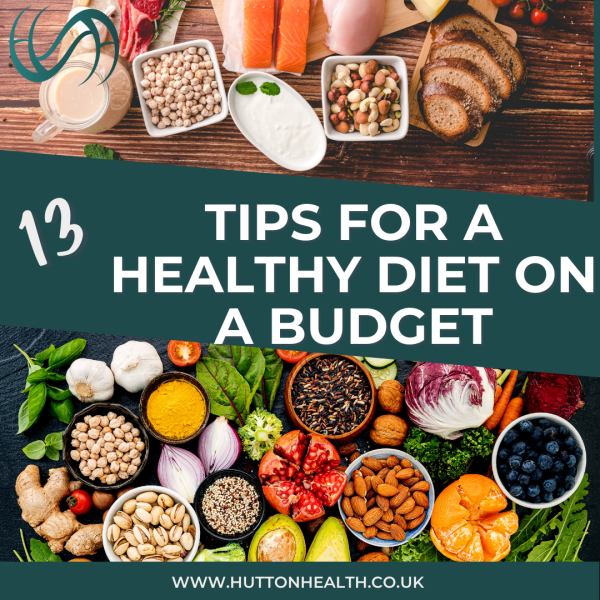 4. Encourage you to add variety to your diet
We can get caught in the rut of buying the same ingredients which lend themselves to the same meals, so we cycle through the same meals at home.
Meal planning can help increase the variety in the food you eat which gives you a range of nutrients.
5. Meal planning eliminates decision fatigue
I dread deciding what t make for dinner on a  daily basis. When  my son walks in the door from school each day, he almost immediately asks, 'What's for dinner?' which triggers the stress and rush to decide what to cook.
Meal planning can remove decision fatigue as there is no question about what to make as dinner time draws near.
It can be hard to find the energy and motivation to cook after a busy day at work, but meal planning and being well prepared makes cooking healthy meals easier and more manageable.
Tips to make meal planning easier
Tips to make meal planning easier
It may seem daunting to get started with meal planning if it is not something you have done before. Here are some tips to make meal planning quicker and easier:
Don't put pressure on yourself to scroll through recipes to find new meals to cook. Include some of your favourites in your meal plan and throw in a new recipe every week or two.
Take a look in your fridge, freezer and cupboards to see what you have already. Use these ingredients as the starting point for your meal planning, incorporating the left over food in your upcoming meals. This also avoids food waste as it will encourage you to use up the food you have on hand before it goes past the best before date.
Have meal essentials on hand such as brown rice, whole grain pasta, quinoa, tinned tomatoes, frozen vegetables and spices can make cooking easier.
Start by planning your protein source for your meal, then add your vegetables and complex carbohydrate to round out your balanced, healthy meal
Eat your fresh, perishable items, such as seafood and chicken, earlier in the week when they will be freshest. Some fresh food and vegetables (such as kale and chard) will stay fresh for longer.
Batch cook and freeze meals in sizes that you will want to defrost to have on hand for days when you are short on time to cook. It will help reduce the effort of cooking every night and helps avoid grabbing quick, processed food when you are in a pinch for time or ingredients.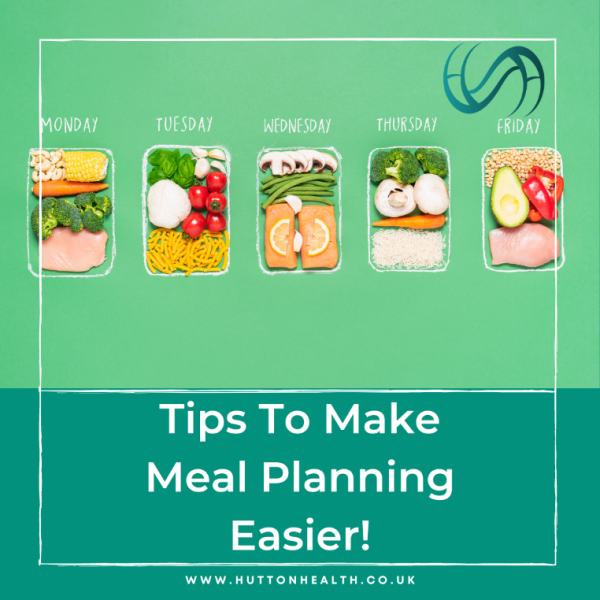 Download Hutton Health's FREE Meal Planner to help set yourself up for long term success.
Meal planning doesn't need to be a chore that you dread each week. It can be a great way to help you eat a healthy, balanced diet.
You may also be interested in: